E-Commerce Experts Interview Series: Victor Goh from Qoo10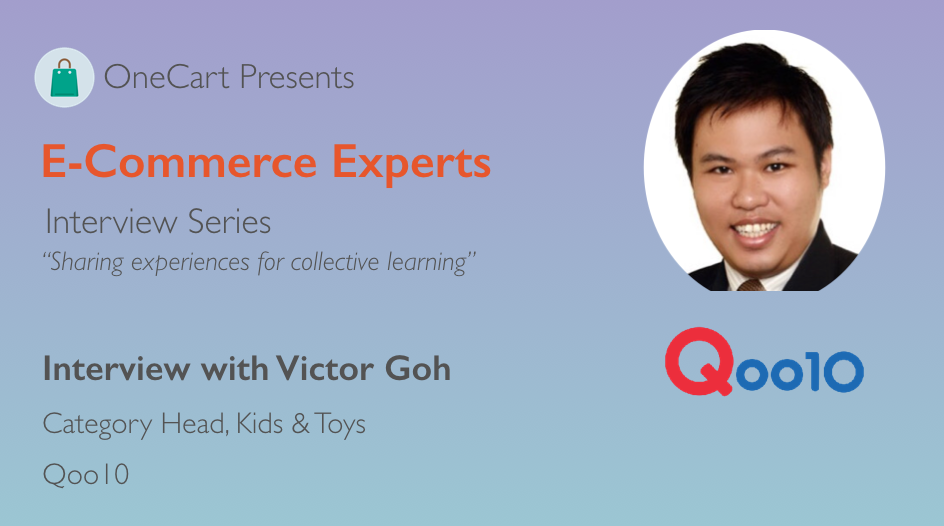 Hi everyone, and welcome to another edition of "E-Commerce Experts", our interview series with practitioners in the Southeast Asian e-commerce space. Today we have Victor Goh, category head at Qoo10 for kids and toys, to share some tips.
Interviewer: Victor welcome, and thanks for joining us.
Thanks for having me.
Interviewer: Can you tell us what your job is, and what a typical day looks like for you?
My name is Victor, and I'm the category head for Babies, Kids and Toys at Qoo10. My primary responsible is to grow sales for my category on Qoo10.
We work very closely with merchants and discuss with them on how they can grow the business on the platform.
I like to build my life around a strong routine, so a typical day for me starts with me checking whatever listings are being promoted for that day. Is the display decent, is the price ok, is the inventory accurate, and so on.
Next, I review the previous day's sales in detail, understanding the sub-category breakdown, and which items are selling well, and which items perhaps have stopped selling well. This is very important as it gives me the right insights for my team meeting later, whether it is with account managers, and other colleagues internally as we plan what we need to execute on for our merchants.
After that, we break into doing our regular daily work, which includes meetings with merchants to provide assistance to them in their needs.
During these merchant interactions, we also try to pick up and identify if any specific brand or product that our merchants are carrying that may be better sellers through the system. We also work with them to come up with marketing or other boost campaigns to help increase their sell-through.
Q: What are some ways you can identify whether an item will be popular and have good sell-through?
Firstly we look at the data, and the data is one of the most important pieces of info we have - for example, page views, abandoned carts in the checkout process, etc.
But data isn't the whole picture. Data is historical, but sales is forward-looking. So we must have some insight as to what may be relevant and useful to consumers in the coming days and weeks, and use that knowledge to make decisions about product boosts and marketing.
Q: Can you share an example of how the data has been useful for decision-making?
A while back, we thought about having an online "Baby Fair" for our sellers, to mimic the physical baby fairs that are sometimes held. Initially, we had thought that some of the sub-categories would sell better than others, but after the online event, the data showed us that in fact some of the sub-categories that we thought would be slower were actually the most popular.
So we used that data to have further marketing activities to drive more sales from those overlooked sub-categories, which helped our merchants sell more.
Q: What types of assistance do you normally provide to your merchant partners? What are they normally looking for?
A lot of the new sellers are looking for help to get familiar with the seller platform, called QSM. This is where our sellers can list and manage their products, check orders, and handle the fulfillment process for their items. We often help new sellers get familiar with the different parts of this QSM interface.
Regular sellers are more comfortable with QSM, so their requirements are more specific to their products, like whether we have any upcoming promotions they can participate in, or how else they can market and boost their product listings to get more sales. For example, what is the best way, or best time to market and push their products?
Each merchant has different products and requirements, so it's usually a very customised process to assist and help them.
Q: How have the sellers in your category benefitted from selling online?
For more established sellers with physical stores, e-commerce is another touchpoint for them with their consumers. E-Commerce compliments the gaps in the physical store experience, for example, things like doorstep delivery, or timed promotions. Timed promotions for example can see sellers have 100 order transactions in half an hour, which is not always possible in physical retail.
The other benefit comes from the lower barrier to entry. For merchants looking to sell overseas, and also for new and young entrepreneurs trying out a new brand they are launching, online is much easier to quickly see consumer response. Doing this same process via physical stores is a lot more work and a lot more costly, as sellers need to consider the location, store renovation, cost of fixtures and fittings, and sales promoter costs before they can even sell one piece of their item. Online they just need the product information, some nice photos, and a seller account.
Q: What has the effect of COVID-19 lockdown / circuit breaker had on online sales?
I think it's had a huge impact on online sales - as people obviously are not shopping outside, online has become the only way for them to acquire the goods they want.
I think the big impact has been the "first step" that many people have taken to buying online because of this situation. Previously many may have been wary of submitting their credit card information online, or even worried about the quality of the items they are buying since they didn't see or touch it before making the purchase. Now that people have started to do this, and realised the benefits are many, and the things they were worried about are not an issue, we will see a lot more transactions happening online.
Even for myself, before I joined Qoo10, there were many goods I normally preferred to buy in person, but now I buy nearly every household or essential item online.
Now that most people have had their experience of buying online, and seeing the benefits of it (like doorstep delivery, wide selections, and sometimes even better prices), online shopping will probably become the norm for many more people.
Q: Many businesses who haven't sold online before are now thinking about starting it. What would you share with them as they start their online journey?
Before you start, have a plan. Because the barrier to entry is low, many sellers just jump in. But they don't consider many of the cost factors. Selling online is not a "no-cost" activity, but it is certainly a "low-cost" activity, or rather, "lower cost" than selling in physical stores. Some of the costs a new online seller should consider as they plan for selling online include:
Fulfillment costs: Since your customer isn't walking out of your shop holding their item, you need to arrange for them to receive it at their home. The item needs to be picked, packed into a shipping box that you have already purchased, and the actual delivery needs to be done by someone, whether it is a courier or delivery service.
Costs of returns: Online platforms also have return policies for the platform, which consumers sometimes utilise. This needs to be factored into your overall P&L.
Marketing costs: This is very important, because marketing is the best way to drive consumers to your product page before they make a purchase, be it through awareness or through discounts.
Online sellers should also take care to properly track their inventory. It can be tricky to keep track between listings and platforms, and online there is a higher chance to sell out and oversell even if you no longer have stock. Invest in a good system to track your inventory.
It's also important to have nice pictures. Luckily there are now service providers out there who can help prepare the product images for an affordable price, so it should be not too hard for sellers to get this done.
Finally, do answer consumer queries when they enquire. If your description or Q&A is filled out, that can help this part. Consumers who leave questions or reviews can influence others to buy from your product page.
So to summarise:
Be aware of the costs of selling online, and include them into your plan
Organise your products carefully so you can keep track of everything once sales start coming in
Familiarise yourself with the fullfilment process, so customers can receive their orders quicker
Do engage with the consumers, even if it via Q&A or customer inquiry. Selling online is still selling, so it's good to have those touchpoints with consumers.
Q: Can you share a bit about the logistics aspect of selling online?
Yes, so as I mentioned, online sellers have to think about the fulfillment cost, and also the process to make sure your customer receives the goods they ordered. On Qoo10, we have the QXpress service, so fulfillment has become much easier for our sellers since we launched this.
Once an order comes in, after picking and packing and printing the waybill, the QXpress pickup can be arranged and they will handle the delivery for you.
Logistics is important, because customers expect fast delivery. So it's important to make it a routine, check the previous days sales, do the necessary fulfillment work and arranging for pickup before lunch time, so hopefully the customer can get their order before too many days have passed.
Q: Any other thoughts or tips you'd like to share?
Selling online has many similarities to brick-and-mortar, and also some advantages over physical stores. In physical stores, you get you use your senses to experience the product before you buy. Online, a seller has to convince the consumer in other ways.
Consumers have more choice and more information online, and there is a higher tendency for impulse buying. If you can create the right feelings in your customer, you can drive more sales for your products. Good pictures, description, and good reviews all help consumers choose your product, and it's important to understand what drives purchasing behaviour online.
Don't sell online the same way you sell offline. Play to your advantages, and remember that emotional is more powerful than physical, so sometimes it's easier to convert customers to buy online.
Thanks Victor for your time, and wish you continued success!