Shopee Seller Fees [2023]
Learn about all the different fees when you sell on Shopee
In this article, we'll be covering all the fees an online seller or e-commerce merchant can incur when they sell on Shopee. Shopee is a huge platform with millions of potential customers for your business, but it's important to understand what fees you will be charged when using it. Besides making the sale, you should also be making a profit, and understanding the different fees or commissions you might be charged will help you better run your business.
Let's dive in!
Table of Contents
---
Need an easy way to track fees and other costs from Shopee and other platforms? Try OneCart
---
What are the different types of Shopee fees?
The first thing to take note of is that there are actually several different types of fees in Shopee. Each one is calculated differently, and depending on how your structure your account, you may not need to pay for all of them.
The different fee categories are as follows:
Commission fee (Shopee platform fee)
Transaction fee (to cover credit card costs)
Service Fees (for any programs like cash back or coins you join)
Shipping Fees (paying the logistics partner to deliver the item)
Shopee Commission Fees
Shopee commission fees are the fees Shopee charges you, the seller, for selling on their platform. It is their "cut" for providing you the platform to have access to their customers.
There is a difference in fees between Shopee Mall sellers, and Shopee Regular (non-Mall) Sellers. Shopee Preferred Sellers are considered non-Mall sellers.
Shopee Non-Mall Seller Commission Fees
Commission fees are generally charged on all items sold, except if you're a new seller. For new sellers, no commission fee will be charged for the 1st 90 days (see the section at the end of this article for more details).
After the 90 day grace period, Shopee charges a commission fee of 2.16% on all items. However, there is a cap on certain categories.
If you sell items belonging to any of the following categories:
Mobile & Gadgets
Computers & Accessories
Gaming & Consoles
Cameras & Drones
Home Appliances
The fee will be capped at $30. So even if your item sells for more than $1,388, the maximum that you will pay for this commission fee is $30.
Eg: let's say you sell a laptop for $2,000, even though 2.16% would be $43.60, Shopee will only charge a maximum of $30 for that commission fee.
This helps prevent much of your margin getting eaten up by the commission fee, however, this only applies for the categories listed above.
If you sell a $2,000 item listed under the beauty category, you would pay the full commission of 2.16%, which would be $43.60
Here's a quick table summary for easy reference:

Shopee Mall Seller Commission Fees
For Shopee Mall Sellers, there is no grace period, and the commission fee is higher than non-Mall sellers. It also varies with item category.
Fortunately, there is also a fee cap for certain Electronics categories, but in general, the commission fee is higher than for non-Mall sellers. Shopee has decided that the value of a "Shopee Mall" mark is a more positive signal to buyers, and so they charge for that privilege.
In general:
Shopee Mall Sellers have higher commission rates than non-Mall sellers.
For certain Electronics categories, commission rates start from 3.24% up to 5.4% depending on the specific category.
The commission is capped at $80 for these categories.
For every other category, the commission for Shopee Mall Sellers is 5.24% and the fee is uncapped.
Here's another quick table summary: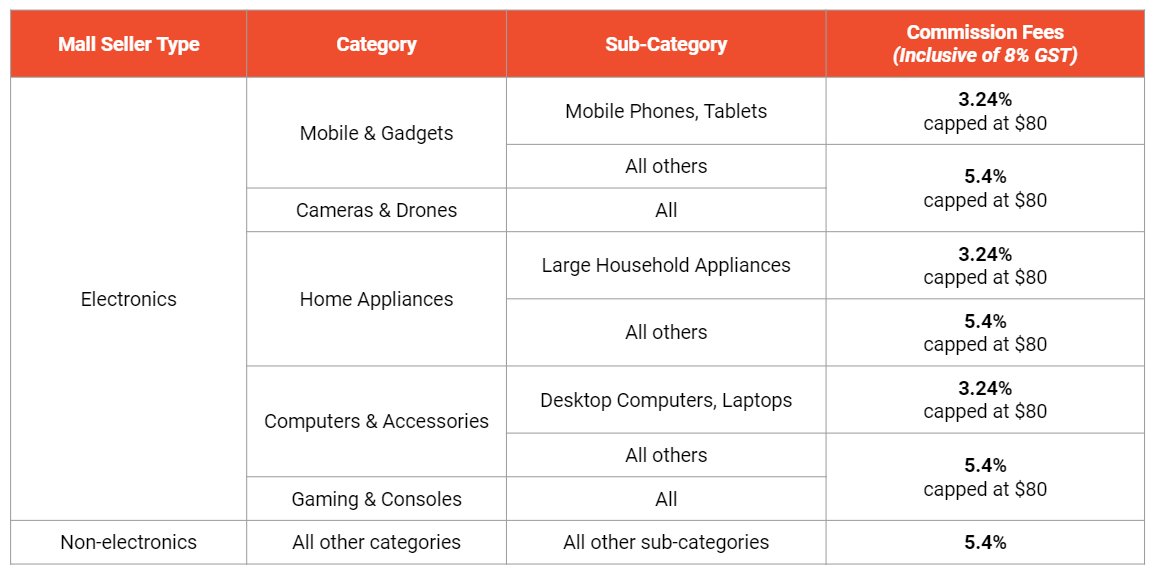 Note that for both Shopee Mall and Shopee non-Mall sellers, the commission fee is only charged AFTER an order is completed. Cancelled orders won't be charged this fee.
If you're just starting out on Shopee, it might be better to start as a non-Mall seller to get the 90-day grace period and lower commission fee, before you upgrade yourself to be an official Mall Seller.
How do we calculate Shopee Commission Fees?
Shopee commission fees are calculated as a percentage of the product price AFTER all available seller-sponsored promotions such as seller vouchers or discount promotions are applied.
This means even if you list the product at $100 for sale, if you are providing other promotional discounts, the commission fee will apply after the other discounts have been deducted from the price.
The benefit of this is that you're paying less in commission.
Have a look at specific example of how the commission fee is calculated on a product:
Product original price: $110
Seller-sponsored promotions
Discount Promotion - $10 off the product
Shop Voucher - $20 off the product
Shopee promotions
Shopee voucher - $5 off
Shopee Coins redeemed - $1 (100 Coins)
Shipping promotions
Free Shipping Voucher applied - $1.75
Singapore GST as of Jan 2023: 8%
In the above scenario, only the items under "Seller Sponsored Promotions" will be taken into account before calculating the commission fee. So $110 - $10 - $20 = $80, which is the base price upon which commission is calculated.
Here's a quick table summary showing the calculation. Note that neither Shopee Promotions, nor the Shipping Promotions, are included: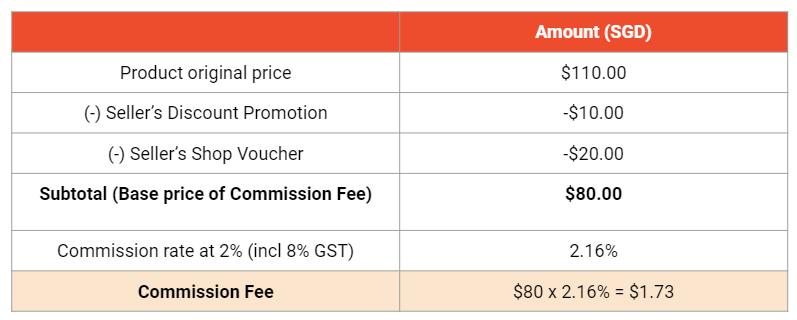 Shopee Transaction Fees
Transaction fees are a handling/processing fee for payments made via the Shopee platform. This includes payment methods like:
Credit card
Debit card
Credit card instalment plan
ShopeePay
PayNow
SPayLater
In general, the Shopee Transaction Fee is 2% for ALL payment methods, execpt for SPayLater, where it can range from between 2% to 5%, depending on the buyer's payback period. Full details of SPayLater can be read on the Shopee website here
Transaction fees are applicable to ALL sellers as well. There is no grace period, or lower transaction fee for seller type, as of time of writing in 2023.
The transaction fee is 2% of the final payment amount, including shipping fees paid by a buyer, after deducting any discounts from Shopee vouchers or Shopee Coins applied. It will be rounded up to the nearest cent (2 decimal places).
Shopee Service Fees
Shopee Services Fees are yet another fee charged if you sell on their platform, and the fees vary again based on whether you're a Mall Seller, non-Mall Seller, and also the category of the item you're in.
The good news is that the Service Fees are based on whether you are participating in a specific program with Shopee, or not. If you're not participating in a program that charges these Service Fees, you won't need to pay them.
The two main programs are: The Coins Cashback Program, and the Free Shipping Program. There are fees for participating in each one, and a small discount on fees if you participate in both.
Shopee Non-Mall Seller Service Fees
In general, if your item category is listed as any of the following:
Cameras
Drones
Lenses
Mobile Phones
Tablets
Desktop Computers
Laptops
Console Machines
Video Games
Alcoholic Beverages
Diapering & Potty
Milk Formula & Baby Food
The Coins Cashback Service Fee is 3.24%, capped at $30.
Every other category will cost you 5.40%, also capped at $30.
For the Free Shipping Service Fees, the percentage is 2.16% capped at $30, regardless of category. However, if you opt into BOTH Coins Cashback AND Free Shipping, then the Free Shipping fee drops to 1.08%. You'll still pay the category rate for Coins Cashback though (3.24% or 5.4%).
Here's a convenient summary table for this: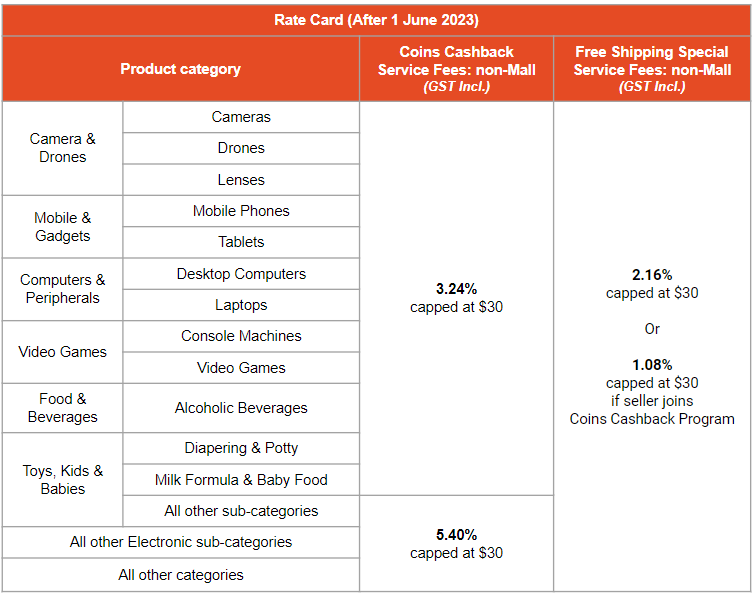 Shopee Mall Seller Service Fees
For Shopee Mall Sellers, there is no category-specific lower service fee like how it is with non-Mall sellers. All Shopee Mall Sellers will pay:
5.4% for Coins Cashback Service, capped at $30
2.16% for Free Shipping, capped at $30, which drops to 1.08% if you opt into both Coins Cashback and Free Shipping services.
Here's a summary table for Mall Sellers:

Shopee Shipping Fees
Finally, the other fee that sellers can be responsible for, is the Shipping Fee.
Shipping fees are the fees charged for delivering your package to the buyer. If your shop is set up to deliver via your own transport (commonly known as "Seller Own Fleet"), then Shopee will not levy this fee for you.
However, most sellers, especially new ones, will be using Shopee's integrated 3rd Party Logistics (3PL) partners to handle the delivery, and so they'll need to pay attention to this fee.
It's important to note: Shopee will often ask the buyer to "pay a shipping fee", and this is something you can see on your order statement, likely called "Buyer Paid Shipping Amount". The amount could be something like $1.75.
However, it is rare that this amount will actually cover the entire shipping cost. So as a seller, you'll likely pay the difference.
The other point to note is that logistics companies charge by something called "Volumetric Weight". So even if your item is light, but the dimensions exceed a certain size, the "Volumetric Weight" will be calculated at the higher price, and that is the shipping fee you will be liable for.
The different 3PL companies have different shipping rates. The breakdown is below:
Fulfilled By Shopee (FBS)
Fulfilled by Shopee has the lowest shipping fees, but note that there are other storage and handling costs for using them. It's important to do a full math calculation of using this service, however if your margin allows for it, this could be the most profitable path.
See the FBS column in this summary image for full details: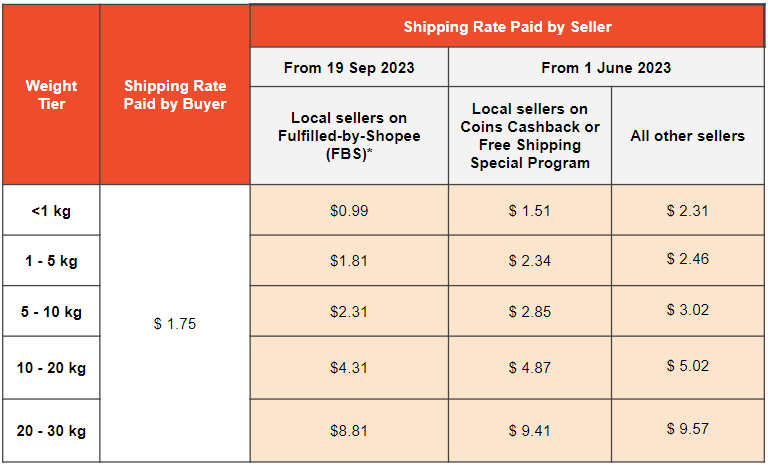 SPX Shopee Express (Delivery), J&T Express, and SpeedPost Standard (SingPost)
If you fulfill yourself, then you can get discounted shipping fees if you're Coins Cashback or the Free Shipping program (but then you're also paying fees for be in those programs).
Again, do your maths to see how much you'll actually be paying.
If you're not on any of the programs, then you'll pay on average 60 to 80 cents more per weight tier.
The full breakdown is in the image below. See the middle column and the right-most column for details.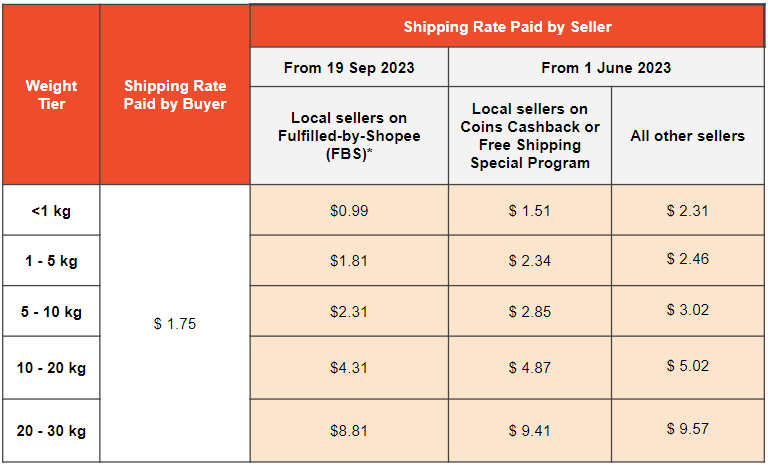 SPX Shopee Express (Self-Collect)
This is the rate card for SPX self collect. This is only available for specific sellers.

NinjaVan Home Delivery
This is the rate card for NinjaVan home delivery:

NinjaVan (Collection at Ninja Points)
This is the rate card for NinjaVan self collect. Note that the package must be small enough for the collection to work.

uParcel

Is there a grace period?
You may be wondering if there is a period of time before fees are charged, to give you time to build your business and get some initial sales. The good news is that yes, for new sellers on Shopee, you won't get charged commission fees for the 1st 90 days of your operations. But this is ONLY for commission fees. Every other fee could still chargeable.
Conclusion
There are a myriad of fees to consider when selling on Shopee, and while they individually shouldn't be onerous, you should certainly do your calculations for your business to see how it all affects your bottom line.
Want an easier way to track Shopee Seller Fees?
If this all seems overwhelming, don't worry. We've built OneCart, a powerful software system to help you manage your e-commerce business. It helps you easily track fees and other charges from Shopee and other platforms, and also has powerful automation features like automated inventory sync, copy listings from one platform to another, consolidated order processing, and many other features.
Happy to help where needed, just sign up for a free account and select a free no-obligation 1-on-1 Zoom with one of our E-Commerce Growth experts.
We hope that this has been a helpful article to you!